2014 COMSOL Training Course Series Released
Whether you are interested in an introduction to COMSOL Multiphysics or want to delve deeper into application-specific courses, you will want to check out the newly released 2014 Training Course series. This is your opportunity to advance your simulation skills and maybe show off to your colleagues how quickly you can set up and solve a complex model. At a COMSOL training course, you can learn tips and tricks from skilled application experts as well as the modeling of applications such as structural mechanics, heat transfer, fluid flow, AC/DC, chemical reaction engineering, and more.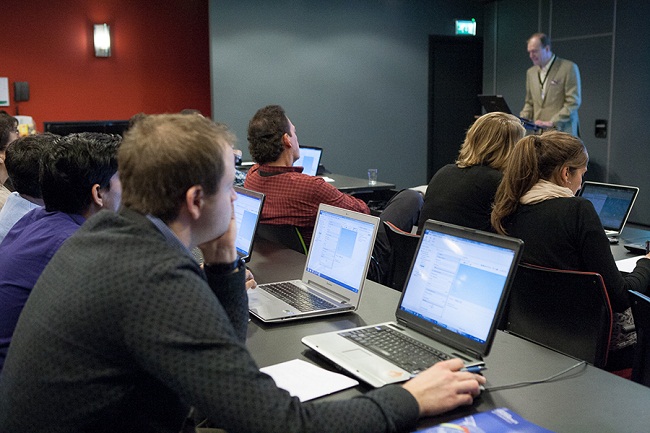 COMSOL Multiphysics Intensive Training
Our intensive training course (spanning one or two days, depending on the location) gives a great introduction to the workflow and key features that can be found within COMSOL Multiphysics. Instructors lead the class through a combination of hands-on examples and tutorials, which allows students to set up and solve models efficiently and with ease. If you are brand new to COMSOL, this is a great course to kick-start that new project of yours!
Application-Specific Courses
We have many application engineers at COMSOL who answer your technical support questions and instruct application-specific training courses. They have several years of experience using COMSOL Multiphysics and its add-on products to simulate a wide span of physics and application-specific problems. We carefully match up the best possible instructors with the appropriate course topics so that you as an attendee get the most value out of your training session. The application-specific training courses cover topics within electrical, mechanical, fluid, and chemical areas.
One of our most popular courses is on heat transfer. During this specific training course, a COMSOL engineer talks about conduction, convection, and radiation and shows you how to couple thermal analysis with other physics, such as fluid flow for example. Speaking of fluid flow, our microfludics course is another favorite. Here we discuss problems found in single- and two-phase laminar flow in microTAS devices as well as species transport, electrokinetic flows, and more.
Register for 2014 COMSOL Training
To learn more about our training courses, including course information and locations throughout the world, check out
our training page.
For U.S. training courses, you can also download our 2014 Training Series brochure, and for Indian training courses, you can check out the 2014 Indian Training Series brochure.

Tip: Group discounts are now available — ask your sales rep to tell you more!

---