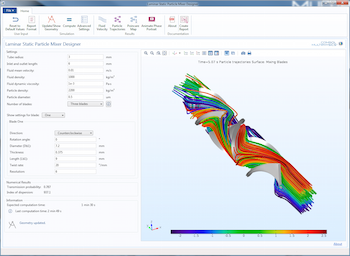 Static mixers are well-established tools in a wide variety of engineering disciplines due to their efficiency, low cost, ease of installation, and minimal maintenance requirements. When evaluating whether a mixer can be used for a certain purpose, it is important to determine whether the resulting mixture is sufficiently uniform. In this blog post, we will discuss the setup of an app designed to quantitatively and qualitatively analyze the performance of a static mixer using the Particle Tracing Module.
Read More
---
Ed Fontes | January 26, 2016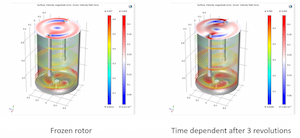 The rotation of the impellers in a mixer or stirred reactor creates ripples on the liquid surface when the agitation is moderate. If the ripples are small in comparison to the height of the fluid in the vessel, the shape and height of the free surface can be explicitly calculated from the velocity field in a separate solution step. The latest version of the Mixer Module in COMSOL Multiphysics includes a Stationary Free Surface feature for such computationally inexpensive calculations.
Read More
---
There are two aspects of home brewing: the culinary side and the engineering one. Many beer lovers start brewing either to improve a recipe, try to clone their favorite beer, or even simply just to see how it works. After brewing a few batches, however, it turns out that the brewing process can also be very challenging from an engineering point of view.
Read More
---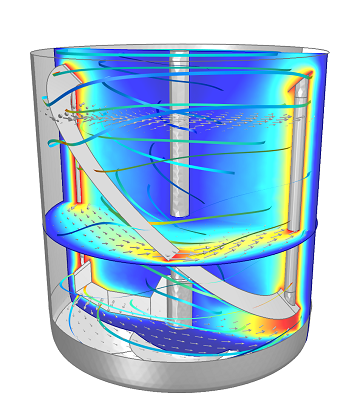 The Mixer Module provides ready-made interfaces for describing the difficult problem of laminar and turbulent flows in rotating machinery with free liquid surfaces. COMSOL has been developing different techniques for modeling CFD, moving geometries, and free surfaces during the past few years for a number of different applications. This has now culminated in the new Mixer Module that was released with version 4.4, and it clearly showcases the improved CFD capabilities of COMSOL.
Read More
---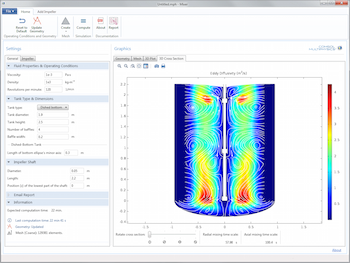 Since we released version 5.0 of the COMSOL Multiphysics® software, you have the ability to create simulation apps — either starting from scratch or with a demo app from the Application Library. Today, we'll introduce you to an app that can be used for understanding and optimizing mixer design and operation for a given fluid. The exemplified application models and simulates stirred tank mixers, which are used for reactors in the fine chemical, pharmaceutical, food, and consumer products industries.
Read More
---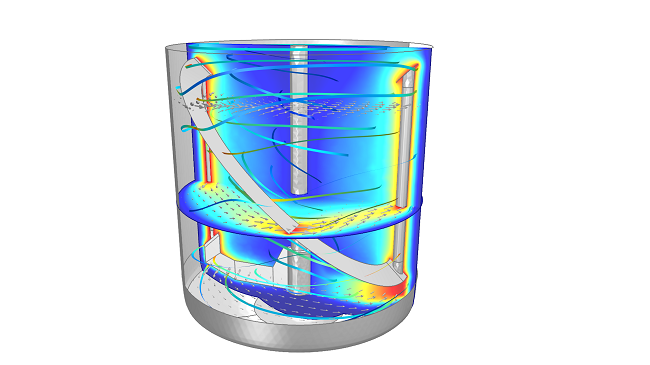 Mixers with rotating components are essential in many industrial applications, including food production, manufacturing chemicals, pharmaceuticals, and other consumer products. While the industrial processes of mixers differ, product requirements like quality, reproducibility, and uniformity must remain constant. Using the Mixer Module is one way you can make sure these product requirements are met. In our upcoming webinar, you'll learn how the fluid flow interfaces available in the Mixer Module allow you to streamline the design of mixers and their mechanisms.
Read More
---