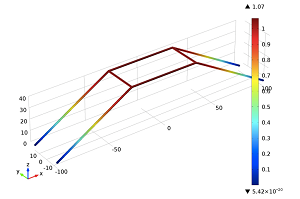 Space frames have been used as the foundation for the construction of many modern buildings, from the Louvre in France to Globen in Sweden. When designing space frames, we need to asses the risk of instability.
Read more
---

One of the more common questions we are asked is about the modeling of periodic, or pulsed, heat loads. That is, a heat load that turns on and off repeatedly at known times. Modeling such a situation accurately and efficiently in COMSOL Multiphysics is quite easy to do with the Events interface. The techniques we will introduce are applicable to many classes of time-dependent simulations in which you have changes in loads that occur at known times.
Read more
---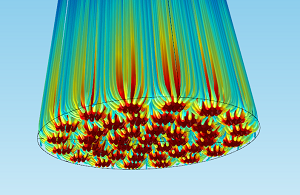 Many exciting features for chemical engineering modeling were introduced in COMSOL Multiphysics version 5.0. In this blog post, I will discuss the most important updates. There are some new modeling interfaces, such as the Chemistry interface, and some that have been revamped and improved, like the Reaction Engineering interface. To begin with, I will recap the modeling interfaces for reaction engineering and mass transport.
Read more
---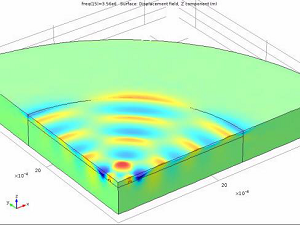 In the paper "Degeneracy Breaking, Modal Symmetry and MEMS Biosensors", which was presented at the COMSOL Conference 2013 in Rotterdam, researchers experiment with using material and geometric symmetry breaking to design a MEMS biosensor.
Read more
---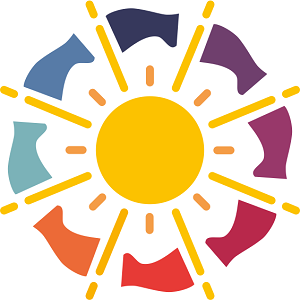 The impact of light in various technologies has been evident in the past several years. Recognizing its significance in shaping the future, the UN General Assembly designated the year 2015 as the International Year of Light and Light-Based Technologies. We introduce you to a few interesting technologies in which light plays a crucial role.
Read more
---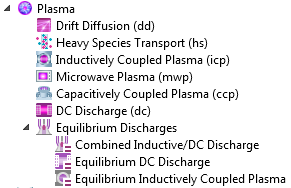 Plasmas can exhibit a large variety of properties. There are plasmas with high and low ionization degrees, as well as those with high and low pressures and hot and cold temperatures. Different equations and modeling approaches are necessary for each kind of plasma. This blog post gives an overview of the different plasma types and shows when to use which of the interfaces available in the Plasma Module.
Read more
---
Chien Liu | February 9, 2015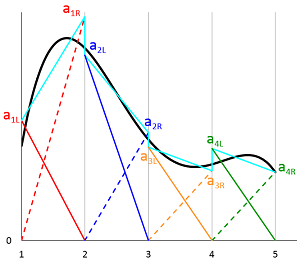 This post continues our blog series on the weak formulation. In the previous post, we implemented and solved an exemplary weak form equation in the COMSOL Multiphysics software. The result was validated with simple physical arguments. Today, we will start to take a behind-the-scenes look at how the equations are discretized and solved numerically.
Read more
---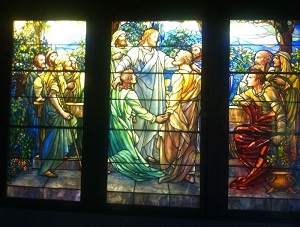 While the designs have become more elaborate, the manufacturing of stained glass windows has remained relatively the same throughout its history. We go beyond the beauty of the art form and dive into the science behind its production.
Read more
---
Ed Fontes | February 5, 2015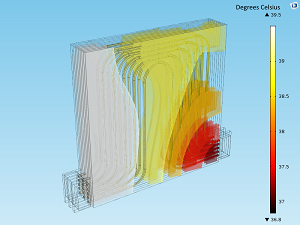 Starting the car on a cold winter morning can be unpleasant if you have not been proactive the night before. When you are unable to start an engine, it is often the battery's fault. Why is a battery more sensitive than other processes in a car? The answer lies in the battery's ability to convert chemical energy into electrical energy, with a minimum of heat generation, and the relatively small amounts of thermal energy available at low temperatures.
Read more
---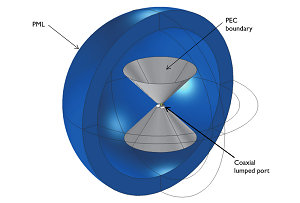 When undergoing testing for electromagnetic compatibility compliance, many products rely on biconical antennas. In order to help with this testing, it is important that these antennas possess broadband characteristics. We explore how simulation can help you ensure this.
Read more
---
Ed Fontes | February 3, 2015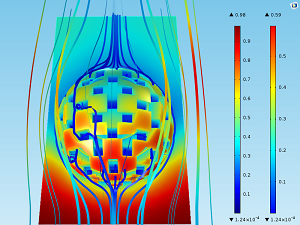 Modeling of heterogeneous catalysis traditionally attracts great interest from the chemical engineering community, due to the many industrial processes that utilize this type of catalysis. Here, we discuss the procedure of starting with detailed micro-geometries and then proceeding with approximations through homogenization. By following this procedure, from the microscopic particle level to the macroscopic reactor level, we can design the catalyst in detail and study the influence of this design on the total reactor performance.
Read more
---
Get new posts by email
---
Categories
---
Tags